There are questions outstanding in this George Floyd story and the Corporatist Media is ignoring them. They involve money laundering, real estate development and politics. Democratic politics, non-state actor politics (that's billionaires to you and me) and lots of well-known names seeking to become even bigger.
Shops routinely scan bills to check they're real and simply hand them back if they look fake. They don't usually call the police or they'd have the cops permanently encamped on their doorstep. So what happened that caused police to arrive when Floyd allegedly tried to pass a fake bill?
In December 2019, U.S. Customs and Border Protection officers discovered $900,000 in counterfeit U.S. currency in a commercial train wagon near International Falls, Minnesota, crossing the border from Canada.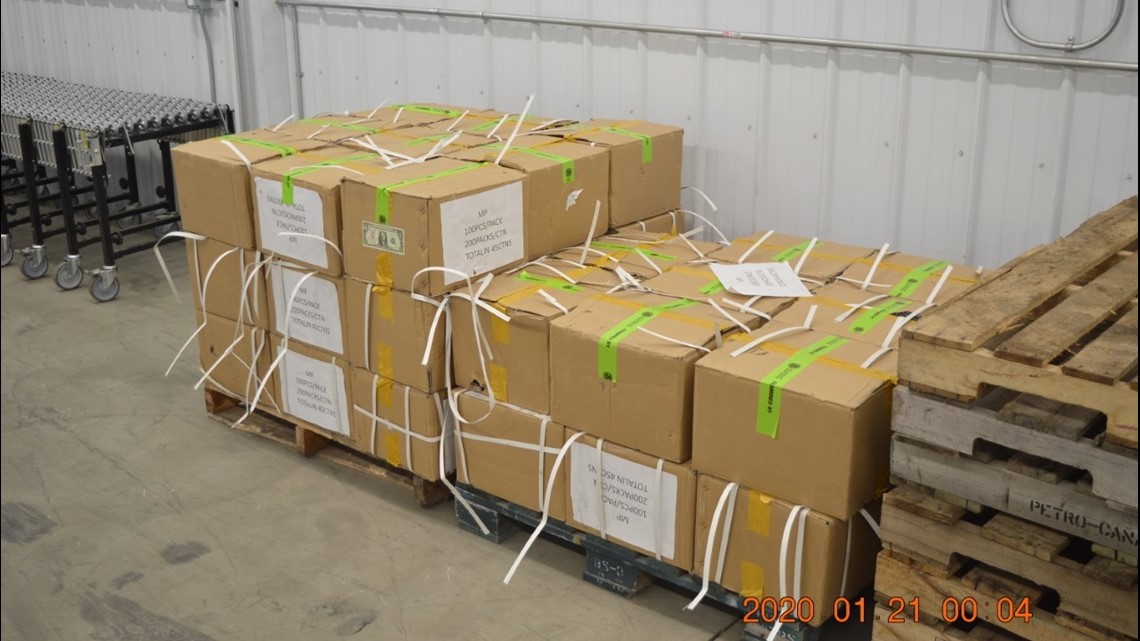 Courtesy of U.S. Customs and Border Protection
Officers said the fake cash came from China. As Event Covid closed down the economy, laundering became more difficult. Passing counterfeit bills on the street would be a problem, especially if you had a lot of them. Those 45 boxes intercepted in December contained $1 bills, 900,000 of them.
Where to launder them? You can use any transaction but to launder a lot of bills quickly, you'd have to control the business. Night clubs would do nicely.
La Raza Radio has relaunched in temporary quarters after burning down during the protests at George Floyd's killing. Station owner Maya Santamaria says she recently sold the nightclub El Nuevo Rodeo (ENR) in the same building, where both George Floyd and Derek Chauvin worked together for many years, both as security. The radio station helps to promote La Raza, an ethnic Latino political movement.
There are suggestions, too, that the counterfeit money Floyd tried to use may have been laundered through the club. Event Covid shuttered the club and thus would temporarily have blown the cover for counterfeiting, also putting Floyd out of work. In those circumstances it would have been reckless to pass fake money on his own doorstep.
The fact that everyone is connected, possibly including the FBI, is intriguing. Allowing one bit of speculation: perhaps Floyd's behavior was endangering an operation.
Local journalists have spoken to Derek Chauvin's neighbors. None of them knew he was a cop. None had seen him in uniform or in a police car. Did he work undercover?
Ownership question
It seems El Neuvo Rodeo's ownership may be more complicated, however. Peggy Traeger Tierney writes that Omar Investments Inc. owned El Nuevo Rodeo Cantina and night club from 1996. The principle of Omar Investments Inc. is Muna Sabri. In 2001 a close relative, Basim Sabri, was captured by the FBI in a sting operation.
Located on 27th Avenue South and East Lake Street in Minneapolis, the property is in an area where the Sabri family are prominent real estate developers. It is close a former industrial lot
in south Minneapolis that is being developed as an East African marketplace, also known as the Somali mall, the aim being to "help
startup immigrant-owned businesses in our city in order to eliminate disparities", acc
ording to Minneapolis City Council Member Abdi Warsame.
Between the two sites is the
the first store to be burned down in the riots following Floyd's death, Target. Next door to Target and down the street from El Nuevo Rodeo club was the Minneapolis' Third Precinct, that rioters attacked and police abandoned in the early days of the protests. So whether Santamaria owned the club or ran it on behalf of the Sabri family, the burned-down ENR club sits in the middle of land that Sabri is trying to develop.
Together with many other businesses that had yet to reopen after Event Covid, that means a long coveted piece of real estate close to Minneapolis-St Paul airport could now be in play. There is talk of plans for more business startup locations and a longstanding plan for condominiums on East Lake and Lake Street.
Political connections
On the topic of who is linked to whom, I defer to those with local knowledge. As journalist I can observe that no business is closer to local politics than real estate, for two simple reasons. Local government has the power to determine the value of land by zoning, which determines what type of real estate a developer can put on a lot. Land is also immovable, which leaves owners vulnerable to the power of local politicians. You can't pick up and run and if you sell politicians can influence how much you can sell for.
Minneapolis has a fast-growing Somali population whose most prominent representative is Congresswoman Ilhan Omar, one of the 'squad' of self-described Justice Democrats. Keith Ellison is Attorney General of Minnesota who works closely with the same campaign manager, Tim Mynett, who helped propel Omar, now 37, to Congress. Ellison's son Jeremiah, Jeremiah, who runs the Minneapolis City Council, and Omar's daughter Isra Hirsi have both declared their support for Antifa. Cementing the squad is 38-year-old civil rights lawyer and mayor Jacob Frey.
The prominent Somali political presence gains also support from George Soros through the Black Lives Matter movement but also through CAIR, the Council on American Islamic Relations. The combined force of these movements means the traditional Democratic power in Minnesota has little choice but to get on board.
Talking of which, Target, which became one during the riots, has on its board Monica Lazano, also a member of La Raza and of another media company, ImpreMedia. Minnesota's Governor is Mark Dayton, a member of the Target family.
The political reshaping of Minneapolis is likely to accelerate if Soros-funded political groups can build on their momentum. Demographic change will give recent immigrants a stronger political voice if development projects succeed in creating new hubs for small business and associated housing.
It is clear the political will is there from Ellison, Omar and Frey. But politics is just one tool in the box, with commercial developers and organized crime also in the mix. Mayor Frey has already found himself caught in the middle, having been elected on a pledge to improve relations between the community and the police, protestors booed him when he refused to commit to abolish the Police Department.
It's not only the Mayor and the Police Department caught in the middle of Minnesota politics. If the FBI was indeed monitoring activities in ENR club before Floyd died and the club burned to the ground, it suggests the agency may also have made a swift exit.
https://www.tierneyrealnewsnetwork.com/post/the-truth-about-george-floyd-antifa-cair-keith-ellison-s-minnesota